Samantha Shane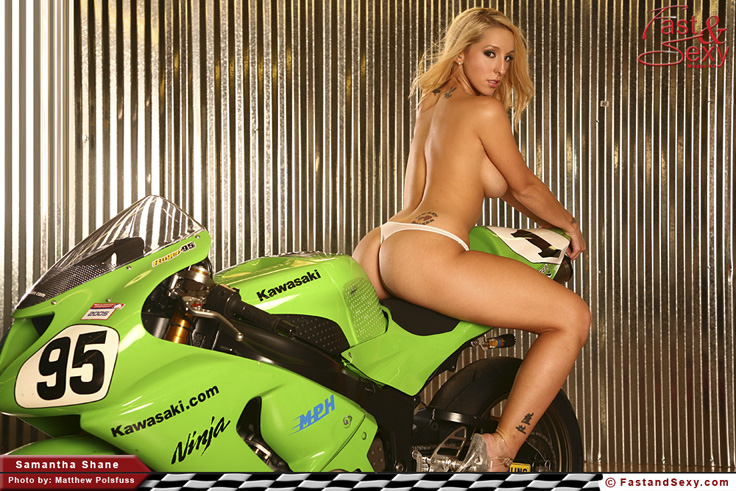 DOB: May 30
Hometown: Lebanon, PA
Accomplishments:
MMA Sports Magazine, American Curves – Glutes Magazine, Miss Myspace March & Calendar, Strobe Magazine, TeaseUm Calendar, College Mansion Model, Maxim Hometown Hotties Semi Finalist
Full time Student @ West Chester University, Collecting anything Marilyn Monroe, traveling, beer pong, buying expensive thing I can't afford.
Are you into speed, a ride that hugs the road, and a woman so beautiful she brings both into perfect harmony? Samantha Shane, from Lebanon, Pennsylvania, is knock-out gorgeous and a sexy young lady Fast and Sexy is proud to bring to you! In these hot topless photos Samantha is svelte and unforgettable. Yet, she's no fool! Being as smart as she is sexy, guys need to keep cheap come-on-lines to themselves. It's no mistake that she has a tattoo that says Heartbreaker! However, Samantha is quick to admit she's single! When Samantha was asked if she's hit on more by men or women she admitted coyly, Well, in bars, I guess it would be men. In other situations, I have to say women are more forward. Alluring to so many, Samantha Shane brings it all to this photo shoot that only Fast and Sexy can promise! So, stay right here and buy one, or more, of these steamy photosets to enjoy every day. Your money is well-spent no matter which of Samantha's one-of-a-kind photosets you choose!